Outbound telemarketing is a type of direct marketing used to grow a business and increase overall revenue. Many businesses choose to outsource their telemarketing to a third-party service rather than build a team in-house. Even though outbound telemarketing has been controversial over the years, it's still one of the fastest growing industries to date.
Why Use Outbound Telemarketing?
An outbound telemarketing service will market directly to potential customers to encourage them to buy products or services over the phone. This type of telemarketing may include a recorded sales message that will automatically play when a customer answers the phone, or an outbound telemarketing representative may speak directly to a customer about the products and services that a company offers.
The two major categories of outsourced telemarketing include:
Business to Customer
Business to Business
As an example, if a business sells office supplies to other companies, then their outbound telemarketing service would cater to other businesses in need of supplies. If a business sells services, like financial consultation or accounting services, then their outbound telemarketing service would reach out to potential customers in need of financial support.
Outsourced telemarketing can be used for several purposes to boost the growth of a business of any size:
Sales: Sales is perhaps the most basic function of outsourced telemarketing. A sales telemarketing representative will call customers to educate them about a company's products or services to encourage them to buy.
Lead Generation: Outbound telemarketers may also request further information from customers in order to build a business's customer list. Once a customer willingly provides their information to a business via a telemarketer, they will be added to a business's list for further marketing purposes, such as newsletters, e-mails, and more outbound calls.
How Outsourced Telemarketing Works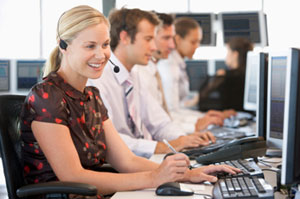 A business will outsource their telemarketing to a third-party service, which will be a call center in the US or overseas. A business will choose to call customers with a live operator or a pre-recorded automated message to send out their marketing message.
In some cases, outbound telemarketers will cold call customers that have never purchased or expressed interest in a business before. Otherwise, outbound telemarketers will work directly off of a business's existing list of customers that have purchased in the past or have provided a business with their personal information to receive updates about products and services.
Outsourced telemarketing provides great benefits in that it is a simple, inexpensive, and efficient way for businesses of all sizes to boost their sales. An outbound telemarketing service will enable a business to place sales calls, upgrade customer orders, and even bring back repeat customers who have purchased in the past.
Inbound versus Outbound Telemarketing
Outbound telemarketing is vastly different from inbound telemarketing. Outbound telemarketing is proactive since a representative will call existing or prospective customers in order to generate a sale or customer lead. An inbound telemarketing representative will receive customer calls, answer questions, and process customer orders from customers already interested in purchasing from a business.
Prices for Outsourced Telemarketing
We went with a company that will charge a standard rate of $25 per hour for a 50 hour test. The rate will go down as the volume increases.
– Buyer from Advertising/Marketing/PR, San Francisco, CA
250 hours @ $5,300 includes custom lists, a dedicated telemarketer, CRM interface, and a dedicated project manager.
– Buyer from Consulting, Las Vegas, NV
Our business is paying $35/hour.
– Buyer from Advertising/Marketing/PR, Philadelphia, PA
The telemarketing campaign and the call list cost $2,076.
– Buyer from Equipment Sales & Service, Dallas, TX
We are paying an initial set up fee of $300 and then $3,000 for 100 hours of telemarketing.
– Buyer from Business Services, Durham, NC
Our company is paying $28.00 per hour for 150 Hours plus set up fee of $700.
– Buyer from Information Services, Alpharetta, GA
With the package we chose, we're paying $32.50 per hour/50 hours, $199 set up fee and $199 for email service.
– Buyer from Insurance, Riverside, IL
What other businesses are looking for
I am searching for an outbound telemarketing company to call a list of 6,000 contacts (up to 3x) and verify if they are a decision maker or influencer and walk them through a 5 question qualification survey. You will be required to provide a daily lead report with contact information.
– Consulting, Ladera Ranch, CA
Looking to hire call center to make outbound calls to generate and prospect sale leads. Will need to call during business hours.
– Advertising/Marketing/PR, Pasadena, CA
This will be a project to ensure that we have the correct mailing addresses within a database, and a few other questions as well, including gathering email addresses. There may be incorrect phone numbers in our list, so this may require further research.
– Advertising/Marketing/PR, Austin, TX
My business is looking for assistance in qualifying leads and gathering basic information on their purchasing needs.
– Advertising/Marketing/PR, Pittsburgh, PA
We are looking for ongoing lead generation and outbound call services to find decision makers, qualify leads, and warm leads prior to handover to our skilled sales team.
– Business Services, Louisville, KY
We have about 80,000 existing customers to call and about 50,000 and growing new leads generated each year.
– Government, Springfield, MO
We have our own leads. We have our own sales people. I need a call center to call leads who may not have answered on the first call, attempt to close a deal, provide package pricing and / or schedule appointments with our closers.
– Information Services, Webster, NY
We need a call center to conduct a 1 minute 11 question market study calls to determine most likely qualified prospects then follow up a day or two later setting appointments with the qualified ones.
– Business Services, Lexington, SC
We need an outbound B2B call service with telemarketers/appointment setters to set up appointments for our sales reps. The telemarketers must speak in clear English, this is extremely important.
– Equipment Sales & Service, Island Park, NY
We would like to hire a company to make calls and leave Voice Mails for a special offer. We would also like you to gather email addresses for the companies called.
– Computers – Software, Warwick, RI